Homily of Card. Lorenzo Baldisseri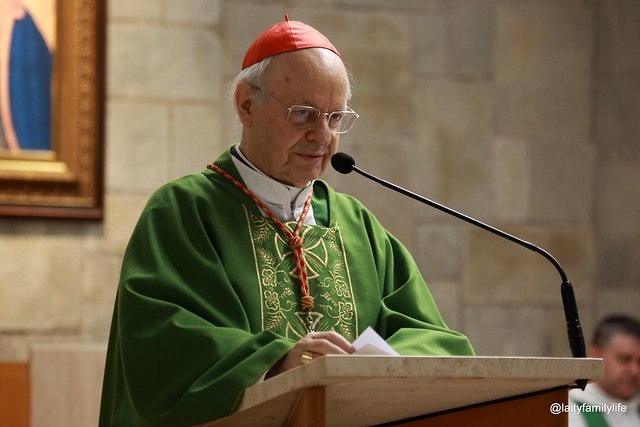 Homily
Rome, 19 June 2019
International Youth Forum – Post Synod Meeting
2nd Letter to the Corinthians 9: 6-11
Psalm 111: 1b-4.9
Gospel according to Matthew 6: 1-6.16-18
I am truly happy to address you, dear young people from all over the world, at this Holy Mass at the very beginning of the 11th International Youth Forum on the theme "Young people in Action in a Synodal Church".
The Word of God is always the source of enormous, fascinating, inexhaustible spiritual richness. It allows us to go deep into the mystery of life and reveals to us the way to reach an encounter with the Lord, in whom, and thanks to whom, we find a safe haven for our search and discover the truth about ourselves.
"Blessed are those who fear the Lord"
This is the response to the responsorial psalm that we have just read and which I would like to recall here to begin our reflection. I find these words inspiring.
"Blessed are those who fear the Lord" is an expression that seems unusual. How is it possible to be blessed and at the same time to fear or even feel dread or terror? A dictionary will tell us that the terms 'fear' and 'dread' are synonymous, but in reality and in human and Christian experience they are very different.
Dear young people, first of all, I would like to tell you that being blessed is not synonymous with being happy. Happiness is something beautiful, something positive, such as passing school exams, fulfilling a dream, having a job, finding the right person to love and dreaming together about the future. But there is always a small 'but' around the corner. In fact, maybe I passed the exam, but there is another one to take. Yes, I found my soul mate for life, but I have to rely on his/her perseverance. In short, doubt has emerged. I learn the meaning of fleeting and transitory. I experience conditions and situations that do not depend on me. I am aware of limitations.
Blessing, on the other hand, is something deeper, certain and safe. Blessed are those who have found the meaning of life and know that they are on the road where they feel in harmony with themselves, with others, with creation and with God. Human happiness, on the other hand, nails you down to the present moment or to a stimulus that must be continually renewed. Blessing introduces you to eternity and enables you to live in God's 'forever'.
The line from the psalm that says "Blessed are those who fear the Lord" then becomes clear. There is a deep bond between the person who wants to be happy and God who assures us happiness and blessing. Fear of God is not fear, but love. Pope Francis says it well with these words: "Fear of God (...) is the gift of the Spirit that reminds us of how small we are before God and his love and that our good lies in abandoning ourselves with humility, respect and trust into his hands", so that it "takes on the form of docility, gratitude and praise, by filling our hearts with hope" (Pope Francis, General Audience, 11 June 2014).
Saint Hilary rightly said that fear of the Lord is "perfect love". This love enhances everything and ensures that it never becomes a vague feeling. It is love that disseminates like God's love without borders and limits, open to everything and everyone. The fear of God is love for God, love that reveals itself in our lives and encourages us to carry out gestures and actions through which we actively express our capacity to love. What are these actions? They are suggested to us in today's Gospel ‒ almsgiving, prayer and fasting.
These three elements are actually the pillars of every religion, but in our faith they are specifically about our relationship with God, who is Father, Son and Holy Spirit, and about the incarnation of the Word.
Almsgiving is not just about the handout given, sometimes with disdain, to a poor person with hand reaching out. It is not the coin that falls 'from on high' into that outstretched hand. Almsgiving is first and foremost a duty of justice to our brothers and sisters. It is expressed in particular in solidarity with those who find themselves in difficulty. It fosters the sharing of goods and helps bring about the common good.
Prayer is the breath of the soul, Mahatma Gandhi said. Through prayer, we enter into an intimate, personal, unique communion with the Lord and we draw from the source of Love. So we understand the inseparable link between prayer and the ability to love. On the basis of this link we can verify whether our prayer is authentic or whether it is nourished by the hypocrisy that Jesus condemns in the Gospel passage we have just heard. In fact, there is an infallible test to assess whether our prayer is authentic or whether it is an illusion ‒ if we grow in love, if we grow in rejection of evil, and if we grow in fidelity to the will of God. So, every day we must ask the Lord for the gift of prayer, because, in the end, those who learn to pray learn to live according to the Spirit of Jesus.
Fasting is not simply abstention from food that sustains physical life. It is the symbolic acceptance that one's life and needs are not the absolute. The only absolute is God and God's Word.
Jesus in the Gospel affirms the importance of almsgiving, prayer and fasting, and he wants to warn everyone, especially his immediate interlocutors, that these three practices should not be done with the attitude of hypocrites, that is, as an opportunity to show off and play a trumpet in order to be seen and applauded. The correct 'fear of God' means abandoning oneself docilely in God's hands. It is not by wearing a mask to make us appear 'good' in the eyes of others that we will be blessed in life, happy to be children of God and attentive to the good of our brothers and sisters.
So, fear of God and trust in God and his love become the driving force and motivation to be generous, to give with joy and to sow with abundance and perseverance. We have just heard this from St. Paul in his Letter to the Corinthians.
Dear young people, in his letter St. Paul urges us not to conform to the mentality of the world that would like us to submit to the concept of having more and more, of attaining power at all costs and of wanting to be visible. Pope Francis, in Christus Vivit, the recent apostolic exhortation with which he concluded the Synod dedicated to you, reminded us that "we must dare to be different, to point to ideals other than those of this world, testifying to the beauty of generosity, service, purity, perseverance, forgiveness, fidelity to our personal vocation, prayer, the pursuit of justice and the common good, love for the poor, and social friendship".
And do not believe those who tell you that everything is useless, that nothing will change and that you are deluded because you are fighting against powers stronger than you. Do not submit to those who would like you to be silent followers of hidden commands that push you to be simply consumers of songs, drugs, sex and images that pass quickly through our social media. Have the courage to be different. I would like to whisper in the ear of each one of you:
Plant a seed, sow a seed,
the important thing is to sow ‒ a little, much, all ‒
the day of hope.
Sow your smile
for it to shine all around you.
Sow your energies
to confront the battles of life.
Sow your courage
to revive someone else's.
Sow your enthusiasm,
your faith and your love.
Sow the smallest things,
The slightest things.
Sow and have faith,
For every grain will enhance
a small corner of the earth".
The world you build tomorrow will depend on how you live today. Do not let yourselves be won over by those who are disappointed with life, by malicious people, by those who are only worried about themselves and their image and retire when they are still in swaddling clothes. Make your life worthwhile, useful for someone, and assist those in need of your help and be close to those who have fallen and cannot get back up. Sow love in and around you. All the love sown, sooner or later, will flourish.
In this commitment to sow seeds, you are accompanied by Mary, the humble, determined young woman from Galilee. She defied the cunning glances of her fellow citizens to fulfil her dream that the Word of God would not remain a beautiful but unfulfilled promise, but would become flesh and dwell among humankind.
We entrust ourselves to her in order to find the joy of living and the courage to sow seeds without tiring.
Cardinal Lorenzo Baldisseri
General Secretary of the Synod of Bishops
19 June 2019