Cardinal Farrell addresses the Holy Father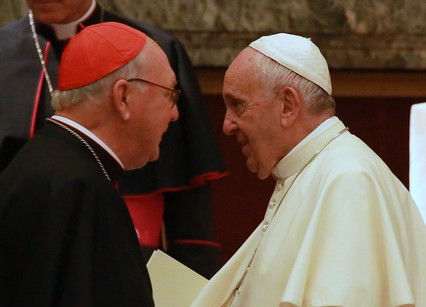 Introductory address by Cardinal Kevin Farrell on the occasion of the papal audience granted to the International Youth Forum participants.
Holy Father,
Here before you are the participants of the 11th International Youth Forum. There are almost 250 young people here between the ages of 18 and 29 who have been sent here by episcopal conferences from all over the world and numerous international movements, associations and communities working in the field of youth ministry. Also present are some of the young auditors of the last Synod, as well as several national youth directors and other experts in the field.
Nine months have passed since the conclusion of the General Assembly of the Synod of Bishops on the theme Young People, Faith and Vocational Discernment, and almost three months since the publication of the post-synodal apostolic exhortation Christus Vivit. In its final document, the Synod asked "that the active participation of young people be effective and ordinary in positions of co-responsibility in the particular Churches, as well as in organs of the episcopal conferences and of the universal Church" (no. 123).
It is this that gave rise to the initiative by our Dicastery to organise this Youth Forum which has been taking place over the past three days. It ends today with this Audience, for which we thank you most sincerely. The Forum was focused on the theme "Youth in Action in a Synodal Church". Together we saw the fruits of the synodal journey in the local Churches and how they had contributed much it. Together we prayed and reflected on the far-reaching impact of the Christus Vivit exhortation on the place where each one lives, and everyone looked for ideas and inspiration to help them take home ideas and proposals.
In number 174 of Christus Vivit, you wrote to young people, "Please, do not leave it to others to be protagonists of change. You are the ones who hold the future! Through you, the future enters into the world". The young people present here, Holy Father, have pronounced their "fiat" during these few days, just like Mary. They have declared their sincere desire to be "the now of God", and to prepare a bright future while doing everything possible to live the present well with dedication and generosity (cf. ChV 178).
We ask you, Holy Father, to bless them so that they may experience more and more in their own lives the love of Christ, their Friend who has overcome evil, and that they may feel the certainty that their Saviour lives (cf. ChV 126). May they, filled with his Spirit, become witnesses for their contemporaries, for nothing can matter more than finding God (cf. ChV 132).
22 June 2019