WMOF: Pope Francis Grants the Gift of Indulgences
A decree of the Apostolic Penitentiary explains the conditions for the indulgences granted on the occasion of the Dublin World Meeting of Families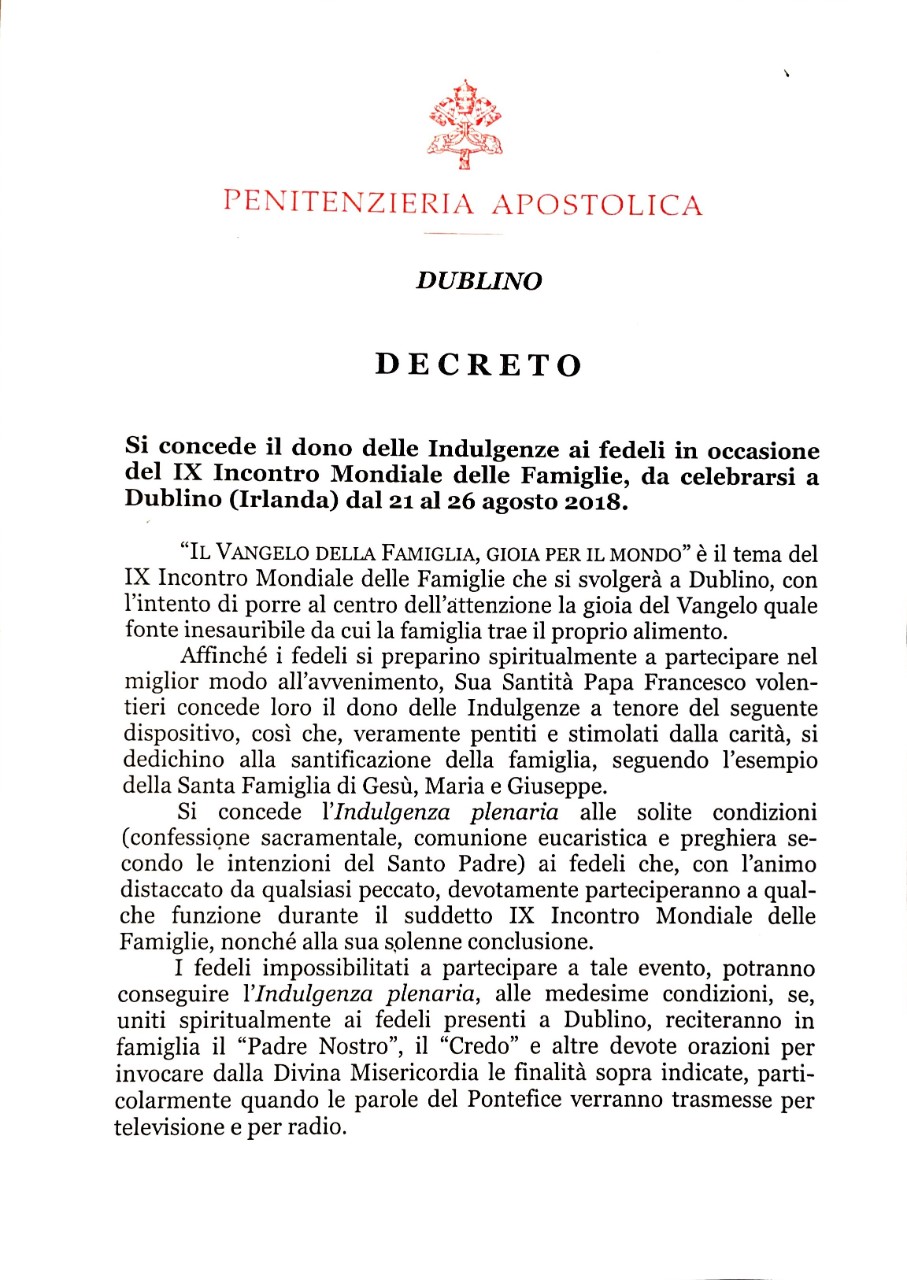 Pope Francis will grant the gift of indulgences to the faithful on the occasion of the IX World Meeting of Families.
This was announced by the Apostolic Penitentiary with a decree issued today, stating that the plenary indulgence is granted "on the usual conditions (sacramental Confession, Eucharistic Communion and prayer for the intentions of the Supreme Pontiff), in a spirit that is completely detached from affection for any sin, if they participate in some function" during the meeting, "as well as at its solemn conclusion," in the presence of Pope Francis.
The faithful who are unable to take part in this event—the text continues—may obtain the Plenary Indulgence on the same conditions if, "united in spirit and in thought with the faithful present in Dublin they recite as a family the Our Father, the Creed and other devout prayers in order to invoke from the Divine Mercy the aims mentioned above, particularly at times when the Words and Messages of the Pope are broadcast via radio and television."
Finally, we read in the last lines of the decree, "the partial indulgence is granted to the faithful whenever, with a contrite heart, in the indicated time they pray for the good of the families."
Currently, there are about 22,000 people registered for the meeting: they come from 103 countries and half of them are from outside Ireland. With 28% of the participants under 18, this WMOF is the one with the highest rate of young people.
3500 volunteers already in training, thousands of prayer requests have been received, while the official WMOF 2018 icon continues to travel through all the dioceses of Ireland. Finally, hundreds of international communities of cloistered nuns promise to pray for all the participants at the meeting.
21 May 2018