Pope Francis' video messages for the upcoming WYD
Only 40 days to go until the Lisbon event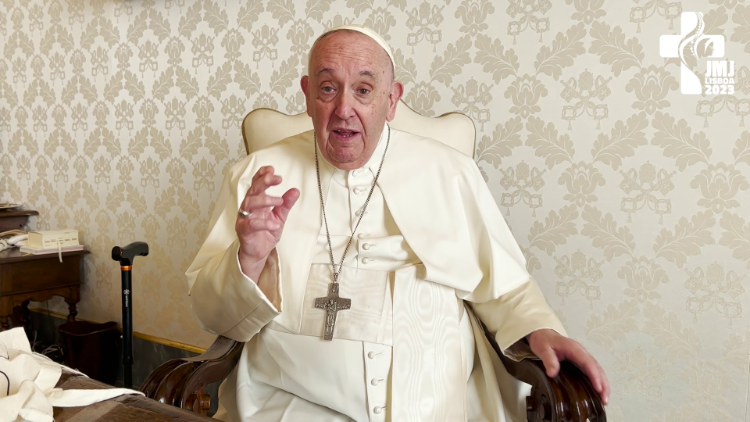 The youth, before all: all together those busy preparing for the trip and those who will follow the world event from a distance, then the WYD "workers"; still, all the staff and volunteers, at every level. Pope Francis forgets no one, in some brief yet intense video messages released between yesterday and today, just 40 days before the start of World Youth Day in Lisbon.
Once again, Pope Francis asks the youth, just as in other meetings with the new generations, to approach life with "the three languages": "The language of the head, to think clearly about what we feel and do; The language of the heart, to effectively and deeply feel what we think and do; The language of the hands to realise what we feel and think". Speaking in another video message to the "trabalhadores," the "workers" of the WYD, the Pope first of all expresses his gratitude: "You do not appear as the protagonists of the WYD, but it is you who make it all possible".
Again, the third video message is addressed to all the staff and volunteers of the World Youth Day Local Organizing Committee, as well as to all those who collaborate in the Diocesan, Vicariate, Archdiocesan, Territorial and Parish Organizing Committees. In a fourth video, released today, the Holy Father responds to a letter from Edna, a young Portuguese girl suffering from a terminal illness. In the letter, the girl conveyed her great desire to meet Pope Francis at the WYD, as well as her great disappointment at not being able to attend because of her health problems.
In his video of response, the Holy Father began with a simple "thank you." "Thank you for the kindness and peace in your heart," he added. Pope Francis also assured Edna that he would accompany her "on this journey" through prayer, "I am praying for you and with you."
23 June 2023