Associations and movements
On mission with Peter. Annual meeting with moderators
Theme of the Meeting: Apostolicity, the heart of movements' identity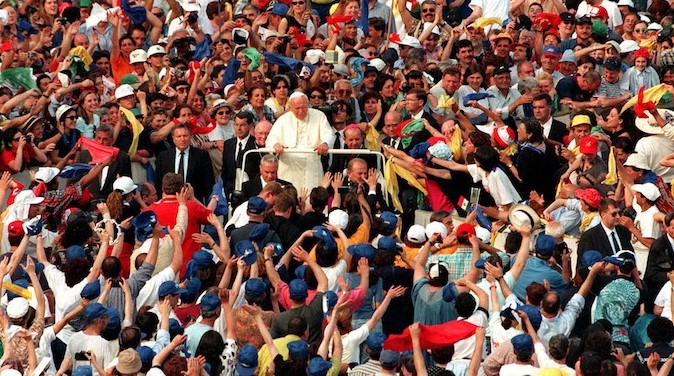 Foto: tempi.it
This year marks the 25th anniversary of the first World Congress of Ecclesial Movements and New Communities, organized by the Pontifical Council for the Laity, which concluded with a solemn Pentecost Vigil in St. Peter's Square with Pope John Paul II on May 30, 1998.
The event held great importance for the journey of numerous ecclesial realities, many of which were born in the years immediately preceding or following the Second Vatican Council.
It was an event that marked the ecclesial journey of these aggregations and greatly stimulated dialogue among them and with the Holy See.
The apostolicity of the movements and the historic event of 1998
Next Thursday, June 22, in Rome, the Dicastery for Laity, Family and Life will host the moderators of associations, ecclesial movements, new communities and other entities recognized or erected by it, for its regular annual meeting. The title of the meeting, "On Mission with Peter. Apostolicity at the Heart of the Movements' Identity," aims precisely at recalling that historic event. In fact, again there will be reflection upon the "theological collocation" of movements, a theme that the then Card. Joseph Ratzinger illustrated in his lecture at the Congress: a contribution of great ecclesial relevance that has preserved all its relevance and that today can brighten the path and challenges that associations and movements find themselves living. If apostolicity, understood as the missionary and universal openness of the Church, is the theological "place" of movements stirred by the Holy Spirit, then it is important that this dimension never be lost if these realities intend to be faithful to their identity.
The journey made by the movements over these twenty-five years
The day's events will be divided into two moments for listening: in the morning, after an introduction by Card. Kevin Farrell, Prefect of the Dicastery, Fr. Paolo Prosperi, of the Priestly Fraternity of the Missionaries of St. Charles Borromeo, will retrace the journey made by the movements over the twenty-five years since that conference, taking into account the magisterium and today's challenges. In the afternoon, the session will be devoted to the testimonies of the participants, invited to speak about how in these years they have welcomed and lived the challenge of apostolic life, as explained by Card. Ratzinger in his lecture: an evangelical, missionary life, which is implemented in charity and service.
Facing a time of change with boldness and creativity
The purpose of the meeting and the reflection that wants to ensue is to face the challenges of this time of epochal changes with boldness and creativity, in order to rethink structures, style and methods of evangelization of aggregative realities, without lacking generosity and courage.
One hundred and fifty participants from five continents are expected to attend the meeting: they are moderators and other members of the central governing bodies of the associations recognized by the ministry, for a day of reflection and sharing.
19 June 2023