Intervention of Isabella McCafferty at the Press Conference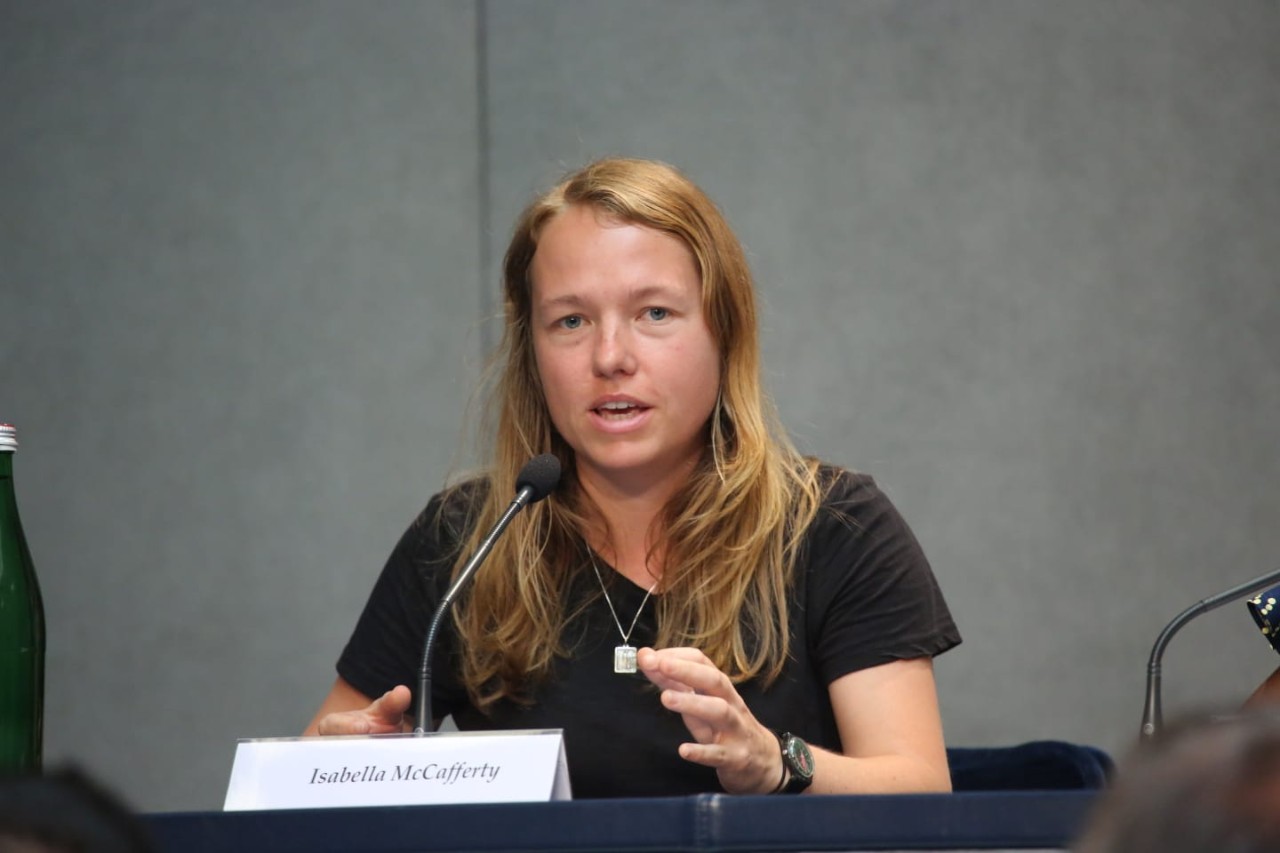 Good Morning. My name is Isabella McCafferty and I am excited about the opportunity to
participate in this upcoming international forum.
I have attended two earlier meetings here in Rome as part of the synodal process over the past three years as a representative of the New Zealand Catholic Bishops Conference (Both From Krakow to Poland. The Synod Journeying with Young People in April 2017 and the Pre-Synodal
Meeting in March 2018).
I have worked in Diocesan Youth Ministry for the past six and a half years for the Archdiocese of Wellington in New Zealand and was heavily involved in helping with the local survey that was undertaken in New Zealand ahead of the Synod of Bishops. I also currently hold a permanent seat on the New Zealand Catholic Bishops Conference, Council for Young People which was reestablished in response to this Synod of Bishops.
I have found these recent experiences throughout this synodal journey to be of great benefit to my life and ministry, helping to confirm parts of my own vocational call and I have enjoyed the experience of advocating for young peoples voice at all levels of the church. Over the past three years I have also enjoyed developing and presenting retreat and workshop sessions around themes that have come out of this synodal journey, in particular encouraging young people to enter into the practice of discernment and hoping to present these themes in relevant ways. Along with my work in Youth Ministry on a diocesan and national level, I am also involved in a movement within the Church called Life Teen International which is based in the United States of America. In 2015 I was part of a team who established an annual summer camp in New Zealand based on the Life Teen model. This year we celebrated our fifth summer camp and each year have had around 200 young people between the ages of 13-35 participating or serving at this camp. In 2020, due to demand, we expect this number to double. My involvement in this movement has been integral in my personal faith journey and ministry roles. This year I also attended a Life Teen Training onference in Spain for youth ministry leaders from across Europe and ran a similar conference back in New Zealand a month later. At both of these events I was able to integrate into my presentations my experience of this synodal journey and was able to make links to the Apostolic Exhortation Christus Vivit with a particular focus on the importance of accompaniment and the impact this can have on our lives and ministry with young people.
This morning I hope to be able to refer to the key moments in this synodal journey which have affected my life and ministry.
It brought me great joy to learn in early 2017 that a Synod would be held on the topic of young people the following year. I would have never anticipated how I would be to be able to be part of this journey as the process unfolded. From the start, the words of Pope Francis have been of great encouragement to me. I returned to New Zealand from the initial meeting in April 2017 excited about the invitation being made to young people, to "make your voice heard" ... to "let it resonate in your communities" and to let it be "heard by your shepherds of souls" (Letter to Young People, 2017). I hoped to be able to inspire those young people in New Zealand with the opportunity that was ahead of us. As a result of this, we gained much renewed momentum across the country in ministry with young people and the work that needed to take place gave us room to collaborate nationally in new ways.
I did not know what to expect when I returned to Rome in 2018 to participate in the Pre-Synod meeting of young people. I knew that this was a unique opportunity and the meeting itself was a powerful sign of the church's desire to make the voice of young people heard. It was a great gift to be able to spend time talking with young people from across the world and to hear of how our experiences are similar and the ways that they differ. My language group for the week included representatives from every continent in the world which contributed to the richness of conversation that took place. In the final document from this meeting, we called for "an authentic Church" and asked for a "transparent, welcoming, honest, inviting, communicative, accessible, joyful and interactive community" (Final Document from the Pre-Synodal Meeting, 2018). This is just as true a year later and I believe it will be going forward. Many young people in New Zealand I have spoken with since are asking the Church to be all of these things. In the face of many challenges, a Church which strives to be authentic is one in which young people will be able to take seriously.
Finally, if I can briefly speak to the impact already of the publication of Christus Vivit. For me, this document reads as a collection of Pope Francis' words that have been a constant source of encouragement in my own faith journey and which inspire me in my ministry. The challenge now is how to enable its richness to reach those who need to hear the heart of the document. Pope Francis offers a very personal invitation for young people to return to what is most essential, an encounter daily with the love of God and the living person of Christ.
This document and indeed all of the work leading up to it cannot be the closing of the door on the last few years of listening and journeying with young people. Pope Francis' final words in Christus Vivit again address young people directly, urging us to keep running since "the Church needs your omentum, your intuitions, your faith." It is my hope that the Church makes radical room for this momentum to move us forwards.
New Zealand is literally at the ends of the earth. As a result, it is easy to feel disconnected from the rest of the world. It has meant so much as a New Zealander to have been able to play an active role in the Church on a global level over the past few years. It means even more to have been given a voice in the Church as a young person.
I am very much looking forward to this upcoming International Youth Forum, in particular to the listening and dialogue that will take place. I hope that this experience will continue to inform how we, as a community of faith, continue to include the voice and participation of young people at every level of the church; locally, nationally and globally. I firmly believe that making room for young people in this way is essential as we journey onwards. May we be bold.
Thank you.
Isabella McCafferty
New Zealand
18 giugno 2019