Omelia di P. Alexandre Awi Mello, I.Sch.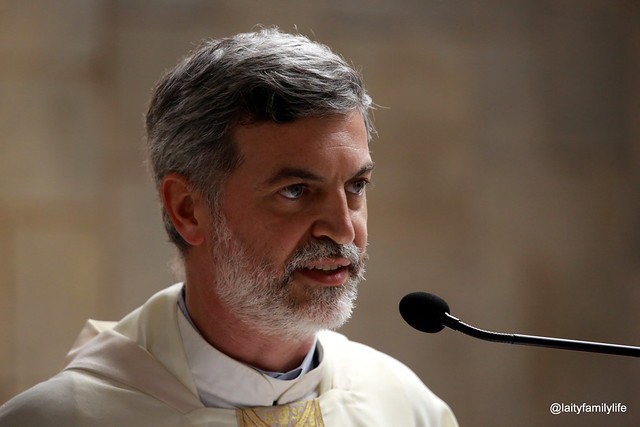 Homilía – 20/6/2019 – Fiesta de Corpus Christi – Foro Internacional de los Jóvenes
1. En muchas partes se celebra hoy Corpus Christi (Brasil, Alemania), también en el Vaticano.
Corpus Christi is celebrated today in many places including Brazil and Germany, and also the Vatican.
2. Es un regalo celebrar juntos Corpus Christi, feliz "Diosdencia" (coincidencia de Dios), Providencia, porque el mensaje del Papa a los jóvenes es Christus Vivit. Justo hoy el tema del día es: "Christus Vivit, el fruto maduro del Sínodo de los jóvenes".
It is a gift for us to celebrate Corpus Christi together. This happy coincidence is called "Diosidencia" in Spanish, meaning "a coincidence willed by God". It is providential because the Pope's message to young people is Christus Vivit and today's theme is: "Christus Vivit, the culmination of the Synod on youth".
3. La Eucaristía fue la forma que Jesús encontró de quedarse cerca de nosotros para mostrar físicamente que está vivo. Agradecemos la institución de la Eucaristía y del sacerdocio (segunda lectura: el texto de Pablo es el más antiguo; es decir, más antiguo que las otras tres narrativas en los evangelios), ya prefigurada en el Antiguo Testamento (primera lectura: Melquisedec ofrece pan y vino).
The Eucharist is Jesus' way of staying close to us. It is a physical reminder that he is alive. We give thanks for the institution of the Eucharist and the priesthood. The second reading is a passage from Paul which is an earlier account of this scene than that of the Gospels. It had already been foretold in the Old Testament (first reading: Melchizedek offers bread and wine).
4. El Evangelio de hoy nos trae uno de los seis textos sobre la multiplicación de los panes (todos los evangelistas narran la primera: la de los 5 panes y dos peces, y Mateus y Marcos narran también la segunda: la de los siete panes y unos pocos pescados).
Today's gospel is one of the six gospel accounts of the multiplication of the loaves of bread (all the evangelists narrate the first one which is that of the five loaves and two fish. Matthew and Mark also narrate the second one which is about the seven loaves and a few fish).
5. Un detalle de la versión de Juan: quien trae los cinco panes y dos peces es un joven (Andrés dice a Jesús: "Aquí hay un muchacho que tiene cinco panes de cebada y dos peces, pero ¿qué es eso para tantos?")
John's version contains an interesting detail when he notes that it was a boy who brought the five loaves and two fish (Andrew said to Jesus: "Here is a boy with five small barley loaves and two small fish, but how far will they go among so many?")
6. Jesús hace el milagro, pero necesita del joven, aunque los demás no crean que lo que aporta es suficiente. Jesús puede hacer todo solo, pero quiere necesitar de nuestra colaboración (palabra que apareció fuertemente ayer en uno de los grupos). Dios nos ama (ChV capítulo 4) y respondemos con nuestro compromiso, nuestra colaboración, nuestro amor (ChV capítulo V).
Jesus performed the miracle, but he needed the young boy, even if others did not believe that what he had brought was enough. Jesus can do everything on his own, but he wants our collaboration (a word that appeared with emphasis yesterday in one of the groups). God loves us (ChV chapter 4) and we respond with our commitment, our collaboration and our love (ChV chapter V).
7. Pero ¿qué aporta el joven? ¿Con qué colabora? En unas misiones juveniles en Argentina, aprendí que los 5 panes y 2 peces pueden ser un hermoso símbolo para nuestras manos (2 manos con 5 dedos cada una), un símbolo para nuestras vidas.
What did the boy bring? How did he collaborate? During a youth mission in Argentina, I learned that the 5 loaves and 2 fish can be a beautiful symbol for our hands (2 hands with 5 fingers each), a symbol for our lives.
8. Permítanme asociar esos 5 dedos de la mano (los panes para la multiplicación de los panes) a cinco actitudes concretas – entre otras – que Jesús (y con Él, la Iglesia) espera de los jóvenes:
Let me associate those 5 fingers of one hand (the loaves of bread for the multiplication of the loaves) with five concrete attitudes – among others – that Jesus (and the Church too) expects from young people. The following acronym only works in Spanish (Panes = loaves).
- P de Protagonismo (liderazgo, iniciativa, ir adelante)
P is for "protagonismo" = playing an active role (leadership, initiative and going forward)
Por favor, no dejen que otros sean los protagonistas del cambio. Ustedes son los que tienen el futuro. Por ustedes entra el futuro en el mundo. A ustedes les pido que también sean protagonistas de este cambio. (ChV 174)
Please, do not leave it to others to be "protagonists" of change. You are the ones who hold the future! Through you, the future enters into the world. I ask you also to be protagonists of [active in bringing about] this transformation. (ChV 174)
- A de Alegría (entusiasmo, espíritu positivo, otimismo, brillo en los ojos,…)
"A" is for Alegría = Joy (enthusiasm, positive spirit, optimism, sparkling eyes, ...)
La juventud es un tiempo bendito para el joven y una bendición para la Iglesia y el mundo. Es una alegría, un canto de esperanza y una bienaventuranza. (ChV 135)
Youth is a blessed time for the young and a grace for the Church and for the world. It is joy, a song of hope and a blessing. (ChV 135)
- N de Networking (comunión, unidad, relación humana y virtual, …)
N is for Networking (communion, unity, human and virtual relationship, ...)
Los jóvenes son capaces de crear nuevas formas de misión, en los ámbitos más diversos. Por ejemplo, ya que se mueven tan bien en las redes sociales, hay que convocarlos para que las llenen de Dios, de fraternidad, de compromiso. (ChV 241)
Young people can find new fields for mission in the most varied settings. For example, since they are already so familiar with social networks, they should be encouraged to fill them with God, fraternity and commitment. (ChV 241)
- E de Espiritualidad (amor a Dios, forma de rezar, profundidad de la entrega, …)
"E" is for Espiritualidad = Spirituality (love of God, way of praying, depth of commitment, ...)
Con Jesús también conversamos. La oración es un desafío y una aventura. ¡Y qué aventura! Permite que lo conozcamos cada vez mejor, entremos en su espesura y crezcamos en una unión siempre más fuerte. (ChV 155)
With Jesus too, we can always have a conversation. Prayer is both a challenge and an adventure. And what an adventure it is! Gradually Jesus makes us appreciate his grandeur and draw nearer to him. (ChV 155)
- S de Servicio (amor al prójimo, dedicación de corazón, …)
S is for Service (loving others, heartfelt commitment, ...)
Sean luchadores por el bien común, sean servidores de los pobres, sean protagonistas de la revolución de la caridad y del servicio, capaces de resistir las patologías del individualismo consumista y superficial. (ChV 174)
Strive for the common good, serve the poor, be protagonists [= active participants] of the revolution of charity and service, capable of resisting [= withstanding] the pathologies [= plagues] of consumerism and superficial individualism. (ChV 174)
9. Gracias por aportar los panes que la Iglesia necesita para alimentar con la Eucaristía la multitud hambrienta del mundo de hoy, o mejor, gracias por ser esas manos abiertas, por ser esa Iglesia, por ser esos panes de protagonismo, alegría, networking, espiritualidad y servicio.
Thank you for bringing the bread that the Church needs to feed the hungry multitude of today's world with the Eucharist, or rather, thank you for being those open hands, for being that Church, and for being those loaves of active participation, joy, networking, spirituality and service.
10. María, la joven que aportó su cuerpo y su vida para que Jesús se tornara Eucaristía para el mundo, interceda por nosotros.
We ask Mary, the young woman who gave her body and her life so that Jesus would become Eucharist for the world, to intercede for us. Amen.
20 giugno 2019